How to choose a facial mask for your skin?

Nowadays, there are many facial mask products on the skin care market, including various materials and characteristics. The following content will tell us how to choose a facial mask.
How does the mask work on the skin?
The skin care principle of facial mask products comes from the Occlusive Dressing Treatment (ODT) in dermatology, which is to establish a semi-closed space between the mask and the skin. When this space is gradually heated by the skin temperature ,the pores of the skin will be opened, and the Penetration theory will be used to allow the active ingredients to penetrate into the skin, increase the absorption efficiency, and achieve immediate moisturizing and repairing effects.
The sheet mask is convenient
Most of them are rinse-free and easy to use. They fit the skin texture and can penetrate effectively. Use before makeup to make makeup last longer. In addition, the closed-fitting state of the mask can also slow down the speed of water evaporation, and at the same time soften the stratum corneum, making the skin soft, bright and delicate.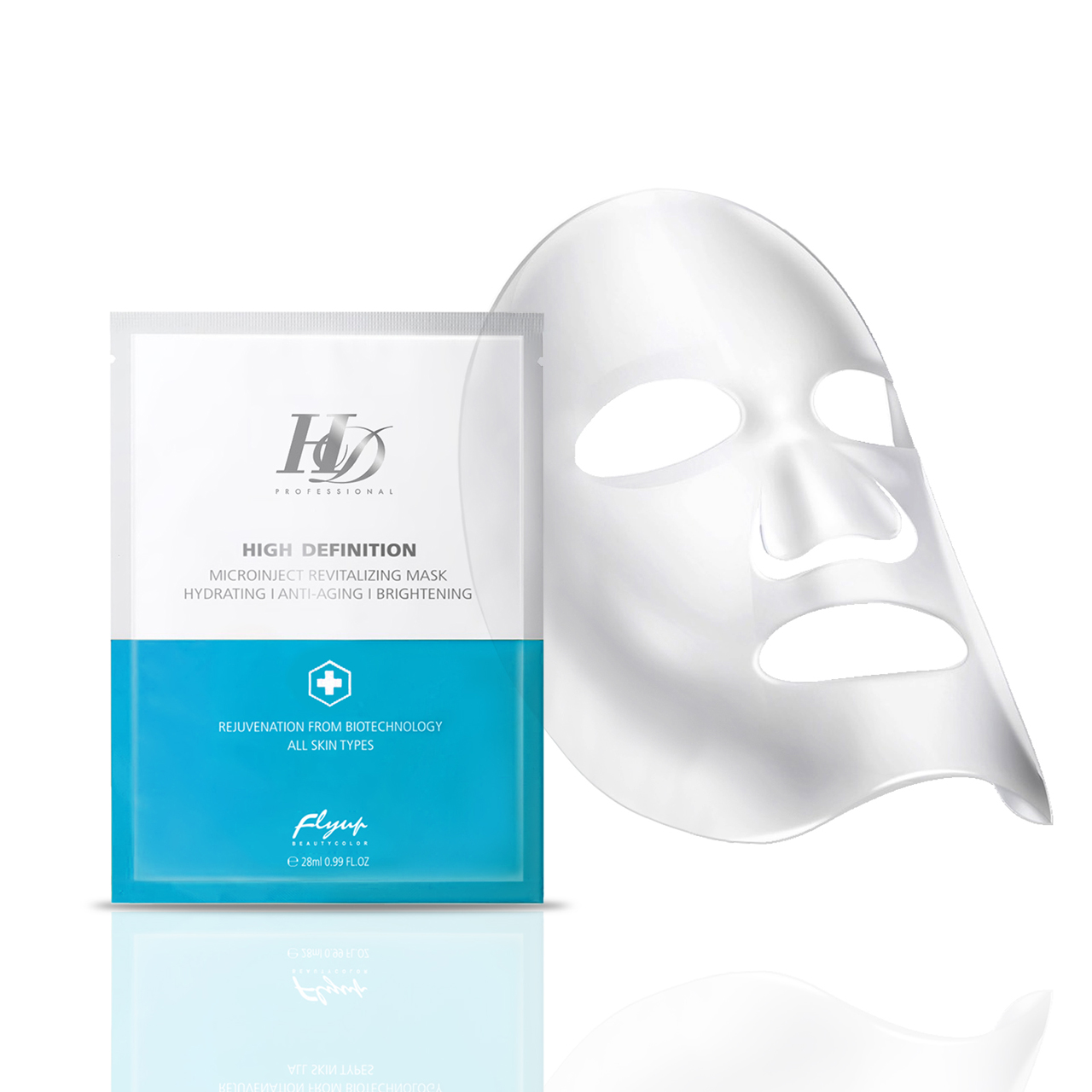 HD MICROINJECT REVITALIZING MASK
The HD high-tech microguide mask, penetrating through the efciency of biological science and technology into the underlying skin, rebuild natural moisture barrier to keep skin moist and translucent, enable instant lifting and enhance firmness.
Medical grade biotechnology
Lightens and brightens the complexion
Naturally lifts and firms
Reduces appearance of fine, dry lines
Free of parabens, MI/MCI, colorant, alcohol and fragrance

HD ADVANCED REPAIR CONCENTRATED RECOVERY MASK
HD advanced repair concentrated recovery mask, High-performance foil-backed sheet mask creates a protective barrier, allowing our potent technologies to penetrate fast and deep within skin's surface and helping to lock in moisture. Instantly, skin looks fresher, renewed.
Exclusive repair technology
Stimulates collagen for firmer and smoother skin
Hydrates and moisturizes skin
Free of parabens, MI/MCI, colorant, alcohol and fragrance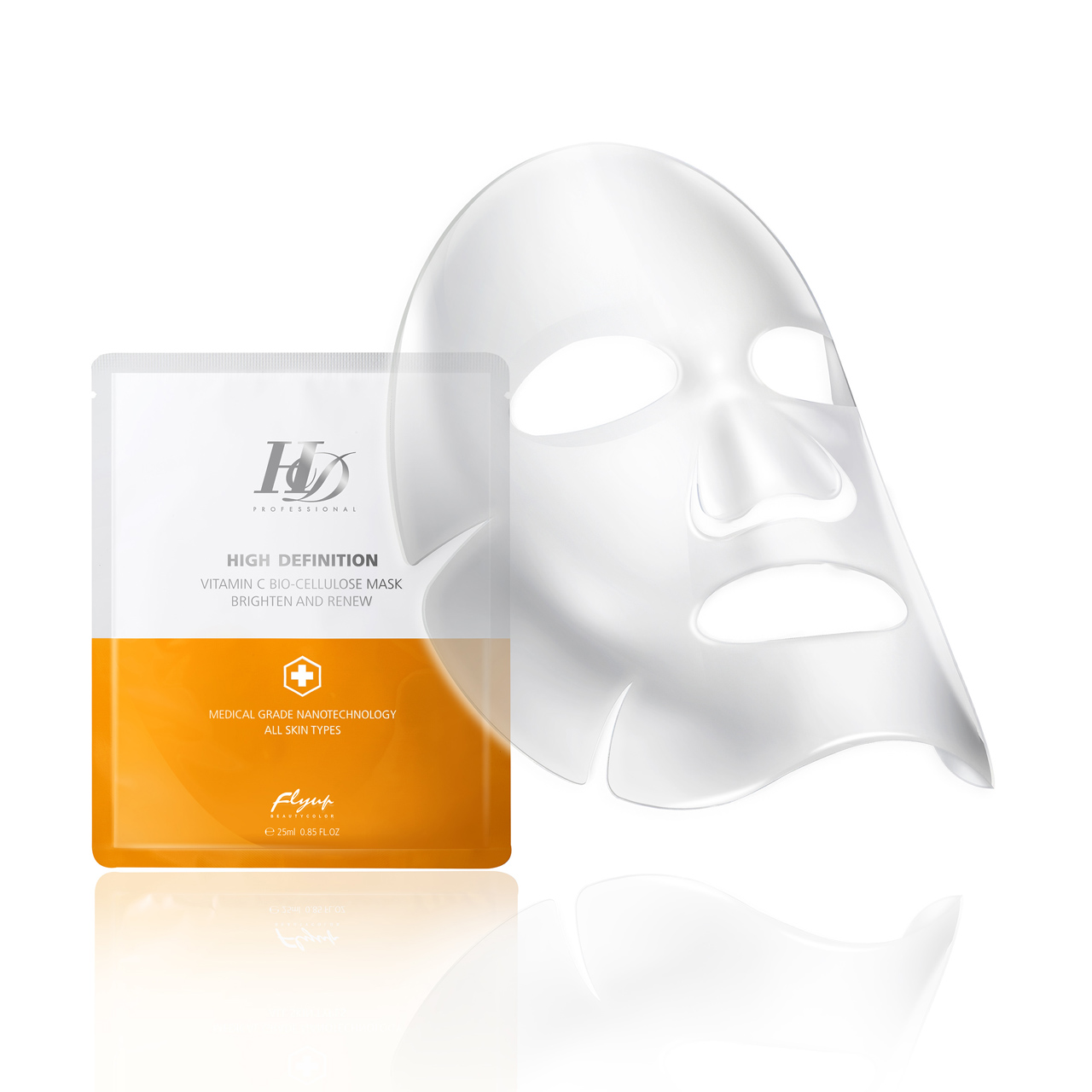 HD VITAMIN C BIO-CELLULOSE MASK
The HD Vitamin C
Bio-Cellulose Mask
is formed of a specialised 20-Nanometer ultra fine fiber that fits perfectly on the skin and allowing serum to penetrate deeply. The 3D network structure that enables itself to retain a high volume of serum and enhances the skin's comprehensive moisturizing and repair effect, further calms irritation and leaves a dedicate watery bright skin.
Medical grade nanotechnology
High absorption and adhesion
Lightens and brightens the complexion
Naturally lifts and firms
Free of parabens, MI/MCI, colorant, alcohol and fragrance

HD ADVANCED REVITALIZING EYE MASK
A comprehensive medical-grade eye treatment provides anti-aging formula and hydration to revitalize the eye area. Smoothes wrinkles and fine lines, reduces puffiness and fades dark circles.
Soothes and de-puffs
Improves wrinkles and fine lines
Brightens dull areas around the eyes
Eco-friendly with biotechnology
Free of parabens, MI/MCI, colorant , alcohol and fragrance
Gel-textured mask with high moisturizing properties
Apply evenly to lock in moisture and repair, suitable for after-sun skin and the last step of skin care to soothe the skin and strengthen the moisturizing effect.

HD HYDRATING CREAM
A silky cream that diffuses a blend of moisturizers, antioxidants and Sodium Hyaluronate into the inner layers of the skin to enhance comfort and hydration.
Provides long-term hydration
Smoothes and softens skin
Free of parabens, MI/MCI, and alcohol
For all skin types
Mud-like texture mask with high cleanliness
Kaolin clay has absorbent properties and is suitable for regular use to remove excess oil and soften the skin's stratum corneum.


HD DEEP CLEANSING MAGIC MUD MASK
The HD deep cleaning mud mask renews your skin cells and decreases pore size. It contains mineral mud, glycolic acid, tornare, calendula, vitamin B3 and vitamin E. It deeply cleanses the skin to remove oils, toxins, and impurities to leave your skin feeling moisturized and nourished.
Fight acne and blackheads
Deeply Hydrated
Removes dead skin cells
Smooth and soft texture
Free of parabens, MI/MCI, fragrance, colorant and alcohol
How to order facial mask products ?
If you have a demand of purchasing wholesale skincare and makeup products , please don't hesitate and feel free to
contact us
!
Why choose Flyup Cosmetics?
Flyup is a beauty brand specializing in wholesale medical-grade makeup and skincare products to pharmacies, clinics and salons around the world. Our products recommended by dermatologists and professionals.
"Quality is our culture"Our main ingredients are imported from FRANCE, GERMANY and SWISS. We also have the ISO22716 GMP certificated.
"Time is gold"for you and for us , we can provide quality services and free marketing materials.
"Low MOQ"We have ready stock and provide first trial order with no minimum quantity.
We are looking for agents and distributors. Whether you are a small business starting up, or a company looking for a new supplier.
Contact us
today to get started!